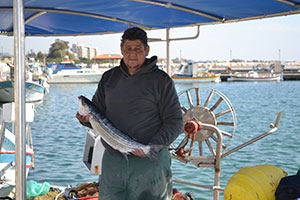 The coastal area of Zygi is one of the richest breeding grounds of Cyprus in terms of the reproduction of different species of fish.  The morphology of the seabed favours and supports the growth and multiplication of marine life.
Tens of professional fishermen -which daily supply the fish-markets and the seafood restaurants of the region with fresh fish -are occupied in the area.
Apart from the professional fishermen, there are several amateurs who love the sea and fishing and visit the area regularly.
The main ways of fishing are fishnets, the longline, the wire trap, the XxxXx for squid, and the treble hook for octopuses.  The amateurs also use the fishing rod and the fishing gun.
Undoubtedly the fish of Zygi are the most known and most tasty fish of Cyprus and has become famous and popular -not only among the locals but also among foreign visitors.
Hundreds of fans of fresh fish swarm the community, especially during weekends and holidays, to enjoy it in the numerous seafood restaurants of the region.
The main types of fish that are fished and served in Zygi are various kinds of sea breams (pagrus, dentex, white, red), the red mullet, the parot fish, the rabbit fish, the octopus, the cuttlefish, as well as fresh squid that are fished during the months of winter.